Youth across the globe are striking during the week of September 20–27th to declare a climate emergency. We have attached flyers with information about the upcoming Global Climate Strike activities happening in Madison, including the strike at the Capitol on Friday, September 20 and a Climate Emergency Rally organized by 350 Madison.
We're proud to support the work of these student organizers, many of whom are UW-Madison students. Amy Barrilleaux's wonderful article in The Isthmus, "Time is Running Out," highlights the youth-led activism taking on this global issue.
Many UFAS members will be attending the events and at the September General Membership Meeting we agreed to wear our UFAS T-shirts to show support for the strike. For those of you unable to attend, there are multiple ways to support the climate strike efforts, especially as educators, including sharing the Madison Climate Strike flyer, signing this petition to join students and stand in solidarity with students on September 20.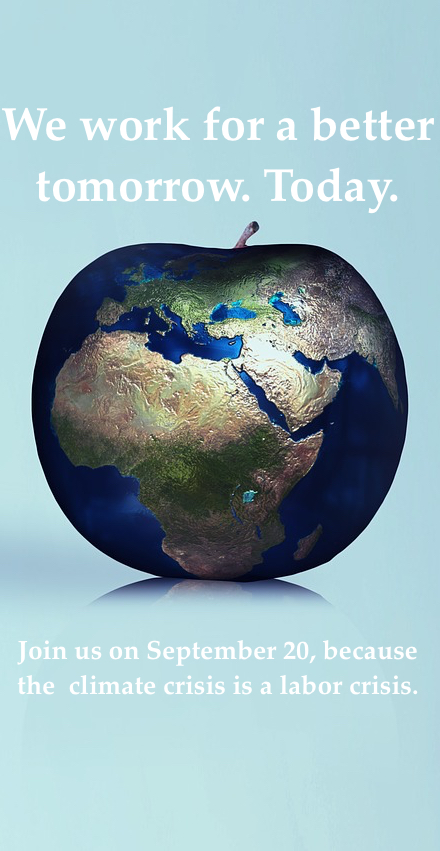 The climate crisis is a labor issue and so we urge you all to support the students, staff, and faculty doing their part to fight the climate crisis and check out the schedule of events for September 20, below:
Global Climate Strike: Day 1 - Sep. 20
6:30 am – Sunrise Gathering – Stretch, Move, Be! Law Park – Blair and John Nolan Dr. Sunrise – 6:42am
7:15 am - Sign Holding along John Nolan Dr.
10:30 am – Interfaith Gatherings:

Bethel Lutheran
First United Methodist
Grace Episcopal
St. John's Lutheran

12:00 pm – Concert for the Climate

Eric De Los Santos & Lexus Annette - Capitol & State St.

12:30 pm – Parade to the Youth - Capitol to MG&E
1:00–3:00 pm – Youth-led Activities at MG&E
3:00 pm – Youth-led March from MG&E to Capitol
4:00 pm – Youth-led Rally - State St. & Capitol
5:00 pm – Youth-led Rally – Inside Capitol Rotunda
5:15 pm – Free Pizza for All in the Rotunda!